So this all started on Monday night when my mom dropped me off at my Grandma's house since she was the one that would drive me out there for the first night since my mom had work. I left for San Diego at 2am and got there right around 3:30 am, I didn't get any sleep that night until around 7am and even then only for like an hour and then again at noon for an hour (this is on top of already having been up the whole day before). This was the day when poor Grisela died. The atmosphere was very serious at the camp out that day and it was just a huge shock, I think my section was the first to hear about the accident because a girl that saw it happen came over crying as we were moving along in our line in the camp. Anyways the day went on and my mom and brother finally joined me at around 7pm. After they had settled down and my grandma had left I went to a cafe to meet another Kristen fan that I have known for a little while but never met and we had coffee and talked about Kristen and were just really awkward but we had tons of fun. I went back to my camp area after that and I went to bed shortly after and thankfully had a good like 9 hours of sleep.
The next morning my mom and brother and I had to go get some things from Walmart since we had packed in a hurry and forgotten a lot. We came back and got some food then went to check into the hotel to drop my brother off since he would sleep in there that night and I got various things ready for my costume the next day, my mom picked up out badges while I did this. Getting the badges took much longer than we expected and I was running a bit farther behind time wise than I would have liked since that was the night that we were getting a surprise at 9pm which obviously meant celebrities. We get back to the camp area and it's chaos! The stars had already just started to show up like 10 mins earlier than when I got there at 8:45. There were sooooooo many cast members I can't name them all but I got autographs from everyone except Mackenzie and Peter and got pictures with only a few less people than that! After the celebrities all went over to the summit party things died down fast but I wasn't able to fall asleep that night until almost 3am.
This morning I had to wake up at 5am in order to have enough time to get back to the hotel and do everything I needed to do with my costume and get back before 8am when we were going to start being moved into the formal line for hall H. We ran behind then we tried to catch a bus and missed it and ended up finally getting there with about 15 minutes to spare thank god! I had to do my makeup in line but once I finished everyone seemed to like my costume. I was asked to do an interview with Zimbio and so I did in full costume, a couple other people also wanted a picture with me including a lady from twilightseriestheories.com, a large twilight fan site! Right while I was putting makeup on however was when they came around with the bag of tickets for the autograph signing drawing, my brother who was standing in line with us pulled first and pulled a winning ticket! I turned to the lady in charge of getting winners the wristbands and she said I could have it if he didn't want it, so that's how I got the wristband.
We were finally moved into hall H and the anticipation began. I was able to get absoultely amazing seats on the left edge of the middle right section (so I was pretty much in the middle of everything) and only maybe 10 rows back! They showed us some trailers for movies before the panel started. Then the guys that run the panels came out, I think they all said a little something about Grisela and it was very nice. Then they brought out the Taylor, Rob, Kristen, Mackenzie, and Stephanie. They showed us the first 7 minutes of BDP2 and then got into the questions then showed a quick scene when Bella is getting ready to see Charlie for the first time which was sooo freaking cute and funny! Then they brought out the rest of the cast and asked a question or two and when they opened the questions to the audience it was time for me to leave for the autograph signing.
I waited in line for the autographs and I think I was like number 42 out of 51 so I was a little worried about the time issue since they were already a little behind with the panel and our session would end when the orignial end time was set so we lost about 15 mins worth of time. While I'm standing in line I'm practicing the little conversation I planned out in my head (so I didn't just stand there and not say anything or not say what I wanted to say) and the line got shorter and shorter and then they cut off my wristband and let me in. There is still a small line inside the room so I stand in line in the back of the room and look over at Kristen, as soon as I look over at her I start to almost lose it and then she looks over at me and smiles while she is waiting for the next poster to sign, my eyes welded up with tears and I looked away so I wouldn't start crying. Then it kinda continued like that with me still practicing my little conversation, trying to keep breathing, and looking at her then looking away so I wouldn't cry. Then it was my turn to go and I almost had a heartattack.
Rob was the first person I went to and he smiled as I walked towards him, he says hi and say hi back and then kinda awkwardly trys to move his head around to look at my name tag while he half asks "what's your name?" I show it to him and he says "Amanda... man I know soo many Amanda Jones'." and I said "Yeah sorry it's a pretty common name haha" and then he signs it personally to me and leans back in his chair and mentions how tired he is and I say "oh it's all the screaming right?" and he says "yeah I don't know it's like I just hit a brick wall all of a sudden" and I say I'm sorry then I kinda wait for the girl that's in front of Kristen to finish. Now of course all this that I just wrote wasn't said all calmly haha I was super energetic but not like fangirling and he was his normal silly, wonky self and he was freaking adorable! I love him cause he's just really loveable and fun and I just thought to myself what a fantastic actor he is because as Edward he is so calm and not silly and what not and it's just so believable and that's actually the complete opposite of his true personality! He was very sexy btw...
Anyways so then I'm in front of Kristen and I am just stunned, she is absolutely breathtaking. She says hi and I say hi back, then I tell her "I'm a really really huge fan of you." I think she aw'd then I said "I actually gave you a bracelet at the Eclipse premiere." and she says "Oh I remember that! I wore it! I still have it too!" and I take off the 2 bracelets I'm wearing that I've been trying to give her since that premiere and I tell her "Well I have these 2 bracelets for you" and I hand them to her and I think she said "awesome" and then she signed my poster to me just like Rob did and I ask "Can I have a hug?" and she replies "Yeah man. Totally!" and she starts to stand up and she steps out of her chair and she looks at my costume and says "Oh my god! You're dress is waayyy better than mine! It like actually has slashes and stuff!" and I said "I know I noticed that!" (refering to the fact that in the movie the "rips" in it after she hunts is one perfectly even, nicely cut slit on her thigh). Then she leans in for the hug and I reach under her arms while one arm goes over my shoulder and the other under my arm.
She gives freaking amazing hugs okay, it was a firm hug and I hugged her right back and it was just amazing hahaha but seriously I can't even decribe the hug it was so perfect feeling! I realized now as I reflect on the hug that she and I have almost identical bodies! She might be like maybe an inch taller but our body shape and sizes are exactly the same I'm just a little more muscular! I think that was one reason why the hug was so great because we weren't like awkwardly trying to hug each other because of a height difference or anything. She really is small but definitely not too small at all just built small. As a million thoughts are going through my head during that hug I can help but realize that her cheek is freaking touching my cheek and my face is in her hair and I really just can't believe I'm hugging her. And I don't want to sound like a creeper at all but I did notice that she wasn't wearing any perfume, she just smelled like Kristen haha it was nice. She just made me feel so at ease almost while I was next to her because even though I was in shock because she was right there I felt the love she truly has for her fans so it made me feel good. So then we finally let go of each other after a good 3 seconds and I head over to Taylor.
Taylor asks me how I am and I say I am fantastic and ask how he is and he says he's great (course I'm all smiles cause of Kristen). He starts to sign for me and notices my dress and points up and down to it and says "This is amazing!" and I say "oh thanks! I had red contacts in but they started to bother me you know" and he says "oh yeah yeah" and I say "I only had them in for an hour but..." and he says "Well this is awesome." and sounds actually impressed which was pretty cool and finished signing. Then shakes my hand and says "Thanks for coming" and I say thank you and go to Mackenzie. She didn't say anything and I didn't want to say anything cause she looked so concentrated on writing nicely in cursive and I didn't want to mess her up and she hands it back to me and I say thanks and leave the room.
I ran as soon as I was out the door because I knew the waterworks were coming. I see my mom on a bench waiting and burst into tears saying "She gave me a hug!!" and then I just sit and cry from pure happiness! I seriously am proud of myself for holding back the tears while she was right there in front of me because I didn't want to make her uncomfortable by crying. Anyways my mom took a picture of me in my pure blissful hapiness waterworks and then we started walking to find my brother. We ended up just coming back to the hotel after that because I was so like almost emotionally drained after such an incredible high... I got super tired but I'm still coming down very slowly from that high and I can't wipe the smile off my face. Thanks to Kristen and her beautiful soul and extreme kindness for her fans I was able to have the truly amazing day I had.
Current Mood: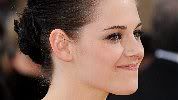 ecstatic